Noah's New Ark: Full-scale model of biblical vessel highlights threat of global warming
Comments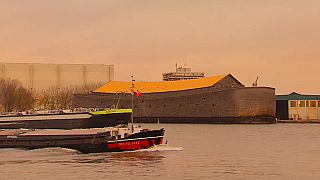 A life-size replica of Noah's Ark moored in the port of Rotterdam is being used to highlight the risk of new flooding in a world that's heating up.
It comes as speakers at United Nations-sponsored climate change talks in Poland warn that global warming is humanity's greatest threat.
In the Netherlands, carpenter Johan Huibers has built a faithful copy of the vessel, following instructions in the Old Testament.
The vessel is 122 meters long and 23 meters high. It can host 4000 people and 15.000 species of animals.
Huibers had the idea after a nightmare about a great flood devastating his country. He believes that global warming is a natural process where human activity has no influence.
"It started after Noah, 4000 years ago and it will keep on going, it will be hotter and hotter. The same for the oceans, the became higher, yeah it is global warming. So I don't know what's coming in the next years but floods will come, absolutely," said Huibers.
The vessel has a religious purpose as Huibers hopes to use it "spread God's word in the Netherlands." He also now hopes to take the vessel to Israel.
But for now, the Ark has been operating as a Biblical museum in Krimpen aan de Ijssel, a municipality just east of Rotterdam.
Building an ark to survive a great flood might seem a little bit odd. Nevertheless, the risk of new flooding is more realistic than ever.
According to a recent study, in the next decades Western and Central Europe will face more river floods and the rise of sea level.
The effects of global warming will be inevitable experts say, but the scale depends on how many degrees the world heats up.
"What we think is that 1.5 degree is adaptable and maybe 2 but beyond 2 we simply don't know if we are able to adapt. It could be that areas such as Antarctica could become unstable and shift more quickly into the sea and lead to incredible sea level rise," says Hydrology and flood management expert at Deltares, Jaap Kwadijk.
Experts are urging cities to adapt their urban infrastructure to deal with rising water levels.
WATCH: Euronews correspondent, Elena Cavallone takes a look at the vessel.