Big in Japan - penguins dressed as santa
Comments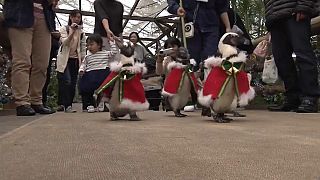 Copyright

صور التلفزيون الياباني
What's black and white and red all over? 
A zoo in Japan is getting into the Christmas spirit by dressing up their penguins in custom-made miniature Santa Claus costumes. 
Matsue Vogel Park in Shimane Prefecture holds a 'penguin stroll' every day, but at this this time of year it takes on a festive feel as the aquatic birds cover up their tuxedo-like plumage with a ruby-red robe. 
They are given the freedom of the park, emerging from their enclosure to go for a waddle around the zoo in the company of a few privileged, specially invited members of the public.
The spectacle is a big hit with zoo visitors of all ages. It's a penguin parade with a difference.