Putin threatens arms race if US exits nuclear treaty
Comments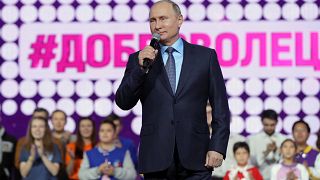 -
Vladimir Putin has said Russia will develop new missiles banned by a nuclear arms pact if the US withdraws from the Intermediate-Range Nuclear Forces (INF) treaty and builds its own weapons.
Putin's comments follow an ultimatum set by the US on Tuesday to declare its missile capabilities in 60 days.
The Russian President accused the US of blaming Russia for committing violations as a pretext for it to leave the treaty in a televised address.
Putin said: "Westerners blame Russia as an easy and familiar target. This is not true, we are against destruction of the treaty. But if it happens, we will react accordingly."
The INF treaty was signed by former US President Ronald Reagan and his Soviet counterpart Mikhail Gorbachev in 1987. It ended the Cold War standoff by banning nuclear and non-nuclear missiles with a range between 500-5,500 kilometres.
On Tuesday, the US Secretary of State Mike Pompeo did not talk about the US's nuclear plans, but said: "There is no reason the United States should continue to cede this crucial military advantage to revisionist powers like China."
The Trump administration has previously said the pact puts the US at a disadvantage with countries such as China, who are exempt from the treaty.
NATO also accused Russia of breaking the treaty on Tuesday and said in a statement: "Allies have concluded that Russia has developed and fielded a missile system, the 9M729, which violates the INF Treaty and poses significant risks to Euro-Atlantic security."
Russia has denied breaking the treaty.