Brexit campaigner Nigel Farage quits Eurosceptic UKIP party
Comments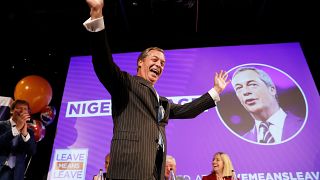 -
The former leader of the UK's right-wing UKIP party, Nigel Farage, has said he was leaving the party on Tuesday.
Writing in The Daily Telegraph newspaper, the pro-Brexit campaigner said the United Kingdom Independence Party had become unrecognisable because of the "fixation" with the anti-Muslim policies under current leader, Gerard Batten.
During his time as head, Farage had put pressure on former Prime Minister David Cameron to promise a Brexit referendum and was a key figure in the campaign to leave the EU.
Frage said: "There is a huge space for a Brexit party in British politics, but it won't be filled by UKIP."
He also condemned the UKIP leader for a decision to appoint the far-right campaigner Tommy Robinson as a party advisor.
"The very idea of Tommy Robinson being at the centre of the Brexit debate is too awful to contemplate.
"And so, with a heavy heart, and after all my years of devotion to the party, I am leaving UKIP today", Farage wrote.
The former UKIP leader has repeatedly taunted EU leaders in his position as MEP over what he called the "Brexit revolution".
He was a party member for 25 years.