Austrian Christmas house dazzles with lights and inflatable figures
Comments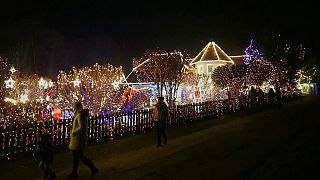 Every year at the start of the Christmas season Sabine Gollnhuber turns her Christmas lights on and her family home, situated in a small Austrian village, is transformed into a sparkly fairytale full of inflatable festive figures.
More than half a million lightbulbs dazzle visitors to the house in Bad Tatzmannsdorf in eastern Austria, and with them comes an impressive group of blow-up characters - according to Gollnhuber the largest number of inflatable Christmas figures in Europe.
They range from Father Christmas sitting on a plane to the Grinch, from the well-known children's book by Dr Seuss. The grumpy Christmas-hating character has been brought to life this year, a costumed figure playing fool with the guests as they wander through the garden.
Gollnhuber started the Christmas house in 2010 and expanded it over the years, with fans travelling from as far as Finland and Slovakia to get into the festive spirit.
But it's not just Christmas visitors who Gollnhuber gets into a good mood - her electricity provider should be delighted too, with the electricity bill coming in at some 2,000 euros.