'Gilets jaunes': Bodycam footage shows police being attacked during protests
Comments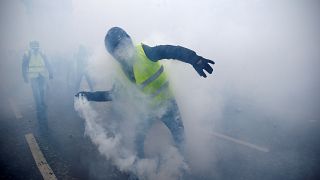 This is the police bodycam footage that takes you to the heart of protests in Paris on Saturday.
It shows officers trying to pull a 'gilets jaunes' (yellow vests) protester from the Arc de Triomphe before having what appears to be rocks thrown at them.
A French interior ministry spokesperson told Euronews by text message there were 136,000 protesters nationwide, of which 10,000 were in Paris.
Read: What are the 'gilets jaunes' so upset about? | Euronews Answers
Protesters set cars on fire, looted shops and cafes in some of the worst riots the capital has seen since the 1968 student protests.
Some from the 'gilets jaunes' movement have sought to distance themselves from the violent elements of the protest.