May threatened with 'historical constitutional row' over Brexit deal
Comments
By Alice Tidey & Reuters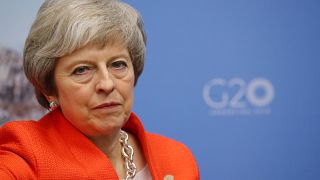 -
Britain's main opposition Labour party threatened to trigger an "historic constitutional row" on Sunday unless Prime Minister Theresa May publishes the full legal advice she received on her draft Brexit deal.
Labour's Brexit spokesman Keir Starmer told Sky News that the party will launch contempt of parliament proceedings against the government unless it produces the full legal advice on the Brexit deal from Attorney General Geoffrey Cox.
The government has said it will release a summary.
"In nine days time, parliament has got to take probably the most important decision it has taken for a generation and it's obviously important that we know the full legal implications of what the prime minister wants us to sign up to," Starmer told Sky News.
"I don't want to go down this path...(but) if they don't produce it tomorrow then we will start contempt proceedings.
This would be a collision course between the government and parliament," he added.
Labour already defied the government last month when it used an arcane procedure known as the humble address to force a binding Parliament vote on the issue, which the government lost.
However, ministers have since sparked anger saying they would release a "full, reasoned position statement" based on the advice instead of the advice in full.
Labour's latest threat comes as the Sunday Times reports that Cox sent a letter to ministers last month in which he warned that the country could remain in a customs union with the European Union "indifinitely" because of the backstop arrangement.
The country would be locked into a customs union until a trade deal is struck with the bloc, which could take years. If talks collapse, the UK would be trapped, he is said to have written.
Cox will address Parliament on Monday.
British media reported that Labour would join forces with other opposition parties to launch the contempt procedure, including the Scottish National Party and the Liberal Democrats.
Northern Ireland's Democratic Unionist Party (DUP), whose support May's minority government relies on, is also reported to be considering joining the motion against the government.
If they are numerous enough, the Speaker of the House may then allow for the motion to be voted on. If a majority of MPs back the motion, the issue is referred to the committee of privileges which will rule on whether a contempt of parliament has taken place.
Possible punishments include suspencion or expulsion.
May's government is unlikely to face such punishment but it would add pressure on the Prime Minister as she struggles to gather support for her draft Brexit deal.
Many within her ruling Conservative Party and the DUP have said they would oppose the deal while opposition parties have stated they would vote against it.
MPs will start debating the Withdrawal Agreement next week and are scheduled to vote on December 11.