What is a day like in the life of a Greek NATO pilot?
Comments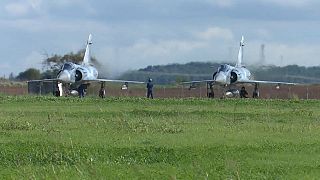 NATO pilots are trained to face real combat at any minute and are expected to know how to deal with dangerous situations in the field.
Greek pilots, more specifically, face frequent tensions in the Aegean Sea. The latest row involved uninhabited islands in the Aegean, which almost caused a war between Turkey and Greece — two NATO allies.
So what does daily life look like for NATO Greek pilots? Euronews' correspondent in Greece, Foteini Doulgkeri, spoke to several pilots in the Greek base of Tanagra.
"Here in the Mediterranean, we have a number of different working environments. All of which require a higher level of training," said Captain Vasilis Tsantilas.
Demetrios Tsoumpekas, a Greek NATO pilot, said that tensions in the Aegean Sea did not affect them too much because they were trained in the best way possible to exercise their profession.
Foreign policy is decided by others, so we are clearly following what the headquarters are telling us, "said Tsoumpekas.