Slovenia is first NATO state to appoint female army chief
Comments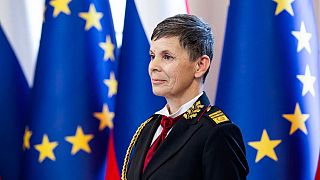 -
Slovenia appointed a female officer as the head of its army on Tuesday, a first for the country and for any NATO member state.
Major General Alenka Ermenc, 55, will begin her duties on Wednesday. She replaces Maj Gen Alan Geder who was only in the post for six months after his predecessor was sacked over the country's armed forces' poor performance during NATO tests.
Slovenian President Borut Pahor said Ermenc's appointment will help improve and modernise the country's armed forces.
"Major General Alenka Ermenc meets high professional criteria, has extensive managerial experience and demonstrates determination," [Pahor said in a statement.](Slovenia is first NATO state to appoint female army chief)
"The global trend of a deteriorating security situation continues and even though Slovenia is not directly threatened military-wise, it must improve its military safety relatively quickly," he added.
Ermenc was promoted to the rank of major general last week, making her the first woman to hold that position in the small eastern European country of just over two million inhabitants. She was also the first woman to lead a battalion in the Slovenian Armed forces.
Educated in the UK, she was deployed in Kosovo for six months as part of a peacekeeping mission in 2009. She will now lead the country's 7,500 troops, which also include reserves.
A NATO official told Euronews that the alliance "has long recognized the importance of women in the armed forces."
"For NATO, equal participation contributes to more resilient societies, more effective forces, and lasting peace. We are committed to integrating gender perspective into our organisation, and our missions and operations," the official also said.
NATO, created in 1949, is a system of collective defense whereby member states must defend each other if one is attacked by an external party.
The alliance currently has 29 member states with a combined tally of troops of approximately three million.
In 2016, women made up only 10.9% of the Allied forces, the highest representation since 1999, according to a NATO report released last year, while women representation in NATO operations accounted to only 6.8% in 2015.
The report flagged however that significant progress had been made in recent years to open up military careers to women.
In 2016, 96.3% of NATO member nations had all positions open to women in the armed forces — an 11.7% increase on the previous year and a 26% jump since 2014.