Watch: Russian vessel rams Ukraine boat
Comments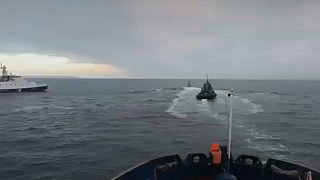 Russia seized three Ukraine ships in the Black Sea on Sunday in an "openly aggressive" manner, the Ukrainian Navy said in a statement.
Footage thought to have been taken during the skirmish has been shared on social media.
The vessels were approaching the Kerch Strait when the tugboat was struck, damaging its engine, guardrail and outer shell.