Russia says Ukraine deliberately provoked Kerch Strait clash
Comments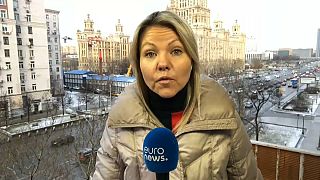 Russia's foreign minister Sergei Lavrov says the clash was organised at the highest political level in Ukraine. He claims Kiev deliberately provoked an incident in the Kerch Strait near the peninsula of Crimea on Sunday in order to create a pretext for new sanctions to be imposed on Moscow.
Russia on Sunday seized two small Ukrainian armoured artillery vessels and a tug boat, which Moscow said had illegally entered Russia's territorial waters.
Euronews correspondent in Moscow, Galina Polonskaya, says Mr Lavrov accused Ukraine of violating the principles of international law.
"He said they (Ukraine authorities) have created a dangerous situation for other vessels in the Kerch Strait" she explains. "He urged other western sponsors, as he called them, to get Kiev to calm down those who are trying to use the incident to get some political points and who are using it to provoke new anti-Russian sanctions."
The Russian foreign ministry said in a statement that it would respond harshly to any attempts to undermine its sovereignty and security.