German MEPs react to Merkel's call for a European army | Raw Politics
Comments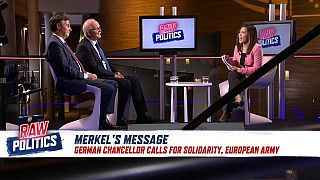 German Chancellor Angela Merkel called for European unity and the formation of a European army in an impassioned speech in Strasbourg's European Parliament on Tuesday.
"We as Europeans now have to take our fate fully into our own hands. We have to work on a vision of one day creating a real, true European Army," she said to rapturous applause from MEPs.
"We can be a good supplement to NATO," she added.
In her address, the German chancellor also touched on issues concerning the Eurozone and French President Emmanuel Macron's proposed EU-wide digital tax.
Assessing her pitch to Parliament on Raw Politics on Tuesday were German MEPs Udo Bullmann from the Social Democratic Party and David McAllister from Merkel's Christian Democratic Union, as well as Euronews' political editor Darren McCaffrey.
Watch the debate in the video player above.