Petition calling for Christmas ad ban to be lifted attracts 660,000 signatures
Comments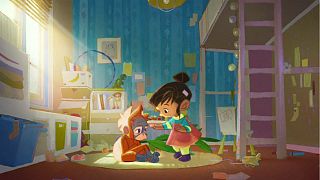 The founder of a petition calling on UK regulators to lift the ban on a Christmas advert which highlights the destructive impact of palm oil production has described his "shock" after it attracted hundreds of thousands of signatures.
Mark Topps, a father-of-three from Essex, southern England, was watching the advert with his five-year-old daughter when he decided to create the petition, which has so far attracted over 660,000 signees — and counting.
"When I first watched the advert, it touched me," Topps told Euronews, "and I could see that if it touched me as an adult then it would also be relatable to children as well due to the animation side of it."
But as the petition went viral and TV interview requests flooded in, Topps says of his reaction: "I can't say how shocked I was".
Supermarket chain Iceland wanted to run the Greenpeace-made animation about its effects on rainforests and endangered orangutans at Christmas before it was banned by Clearcast, the British organisation responsible for the clearance of television adverts, because it was supporting a political issue.
Iceland wants to remove palm oil from its products by the end of 2018 and the video — voiced by actress Emma Thompson — was part of efforts to encourage consumers to boycott such goods over the festive period.
It had been shared nearly 90,000 times from the frozen food retailer's official Twitter account as of Monday evening.
Greenpeace claims palm oil suppliers to the world's largest brands — including Unilever, Nestlé, Colgate-Palmolive and Mondelez — have destroyed an area of rainforest almost twice the size of Singapore in less than three years.
It says this destruction is a leading driver of habitat loss for Bornean orangutans, whose population has been halved in just 16 years.
British retailers' Christmas television advertising campaigns have gained widespread interest in recent years. In particular, the hotly-anticipated choice of upmarket department store John Lewis.
"This year, we were keen to do something different with our much anticipated Christmas advert," said Richard Walker, an Iceland managing director. "The culmination of our palm oil project is offering our customers the choice of an orangutan-friendly Christmas, and we wanted to reflect this in our advertising.
"Whilst our advert sadly never made it to TV screens, we are hopeful that consumers will take to social media to view the film, which raises awareness of an important global issue."