NATO war games spark Russian Twitter feud
Comments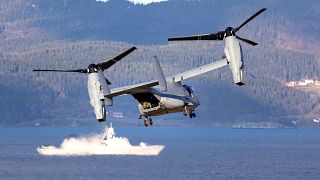 Russian officials have taken to Twitter to criticise the North Atlantic Treaty Organisation (NATO) for threatening Russia during its current military exercises, Trident Juncture 18.
More than 50,000 participants from 31 NATO and partner countries are participating in the exercises along with around 250 aircraft, 65 vessels and up to 10,000 vehicles, which make it the biggest NATO exercise since the Cold War.
Trident Junction exercises are taking place in and around Norway, and began on 25 October and will finish tomorrow 7 November.
As tensions continue to rise between Russia and many NATO members, leaders of the Alliance have stressed this flexing of military power is strictly a defensive exercise.
Recently, Russian President Vladimir Putin has also not shied away from showing off his country's military power. In September, Russia held its largest ever military exercise with 300,000 Russian soldiers, 36,000 military vehicles, 80 ships and 1,000 aircraft, helicopters and drones, as well as 3,500 Chinese troops.
In a testy tweet by the Russian Embassy in the UK, NATO was accused of using Russian-like uniforms and military hardware during their military exercises, even though NATO constantly "assures'" Russia that its military exercise are not targeted at them specifically.
NATO spokesperson Oana Lungesecu responded to the Russian tweet by offering a "quick reminder on geography." The spokesperson tweeted out a map which shows how little of Russia's borders are shared with NATO members.
Russia's land border is just over 20,000 kilometres long. Of that, less than one-sixteenth (1,215 kilometres), is shared with NATO members. Russia has land borders with 14 countries. Only five of them are NATO members.
Outside NATO territory, the Alliance says they only have a military presence in two places: Kosovo and Afghanistan. Both operations are carried out with a United Nations mandate, endorsed by the UN Security Council, of which Russia is a member.
In contrast, Russia has military bases and soldiers in three countries – Georgia, Moldova, and Ukraine – without the consent of their governments.
NATO also says that for more than two decades, they have consistently worked to build a cooperative relationship with Russia.
However, due to Russia's recent aggressive actions in the Ukraine, NATO says allies have requested a greater NATO presence in the Baltic region. NATO believes this justifies their defensive and proportionate steps in response to what they describe as "a changed security environment."
In 2016, NATO deployed four "enhanced forward presence" to Estonia, Latvia, Lithuania and Poland. In 2017, the battlegroups became fully operational, with more than 4,500 troops from Europe and North America working closely together with home defence forces.
NATO's main theme is to stay committed to the peaceful resolution of disputes. However, if diplomatic efforts fail, it has the military power to undertake crisis-management operations. These are carried out under the collective defence clause of NATO's founding treaty.
NATO is an alliance between 29 North American and European countries with a central mindset that an attack on one-member nation is an attack on all. The organisation was formed on 4 April 1949 with the intention to control the Soviet Union's influence in Europe following World War II. The Alliance's headquarters is located in Brussels, Belgium.