Khashoggi latest, tentative Brexit deal: Five stories to know today
Comments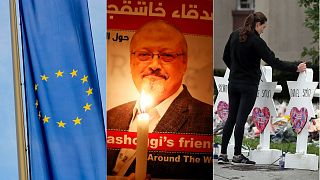 Turkey calls for close Saudi cooperation on Khashoggi murder investigation
Turkey's justice minister has called on his Saudi counterparts to stay closely involved while authorities investigate the circumstances surrounding the journalist's death and search for his remains.
Questions about the killing must be answered by Saudi authorities, he said Thursday while speaking to reporters in Ankara.
His comments came after a chief proesecutor in Turkey said Khashoggi was strangled to death as soon as he entered the Saudi consulate in Istanbul, before being dismembered and disposed of.
Despite "good-willed efforts", discussions with Saudi's chief prosecutor failed to yield "concrete results", Ifran Fidan's office added in a statement.
Khashoggi, a US-based Washington Post columnist, disappeared on October 2 after entering the consulate to prepare paperwork so he could marry his Turkish fiancée, Hatice Cengiz.
UK strikes tentative Brexit deal, pound soars
British Prime Minister Theresa May has struck a tentative deal with EU negotiators that would grant Britain's financial services continued access to the European market after Brexit.
The Times newspaper reported the revelation on Thursday, adding that an agreement on all aspects of a future partnership on services and the exchange of data had been struck.
The value of the pound soared 0.5% against the dollar as reports of the deal surfaced.
It also came hours after Dominic Raab told MPs an exit deal was expected by November 21.
Border towns along new migration route struggles to handle numbers of arrivals
Thousands of migrants attempting to enter Europe through the Balkans from Asia, Africa and the Middle East have been amassing at the border of Bosnia and Croatia.
With winter temperatures fast approaching, the UN has voiced fears that a "humanitarian crisis" looms as the arrivals continue and basic camps are setup on the outskirts of border towns.
Velika Kladusa, for example, has received hundreds of Iranians, Afghans and Syrians looking to move westwards within Europe.
Euronews reporter Hans von der Brelie visited a makeshift soup kitchen in the Bosnian town where a war veteran serves 500 free meals a day to penniless, hungry migrants.
Ukraine's forgotton war
Since the outbreak of the Russia-Ukraine conflict in 2014, Ukrainian towns and villages bordering their eastern neighbour have suffered.
Deteriorating security, frequent shelling and ceasefire violations led to the destruction of infrastructure, businesses, job losses and subsequently, poverty.
Meanwhile, populist politics and pro-Kremlin feeling has risen among pockets of the local population. But progress for many is still being made despite the war and uncertainty about their future.
Elena Cavallone reports for Euronews:
Maastricht treaty turns 25 today
The agreement that founded the European Union and the euro came into effect on November 1, 1993, 25 years ago today.
The Union comprised only of 12 member states at the time, before ballooning to 28 by 2007. The Eurozone also encompasses 19 countries.
As it happened on Thursday, November 1
This is how we covered key developments this morning: