Watch: MEP bares his sole in stunt over Italy budget rejection
Comments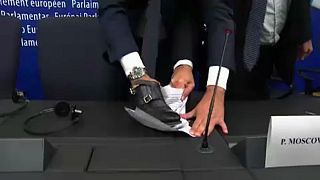 This is an Italian MEP's bizarre stunt after Brussels told Rome to revise its budget.
Angelo Ciocca, from the same party as Italy's deputy prime minister Matteo Salvini, stamped his shoe on what he called a "mountain of lies" about the country's spending plans.
Pierre Moscovici, fresh from announcing the EU's concern over Italy's fiscal proposals, asks Ciocca: "Who are you?"
Ciocca, who later boasted the shoe's sole was made in Italy, then tells Moscovici the EU's response is "shit".
Moscovici, who is the EU commissioner for economic and financial affairs, said Italy's budget "represents a clear and intentional deviation from the commitments made last July".
Italy, which has the second highest government debt as a percentage of GDP in the EU, remains on a collision course with Brussels.
Salvini said Moscovici's announcement "doesn't change anything", while Luigi Di Maio, Italy's other deputy PM, claimed that this was the first Italian budget that had been "written in Rome and not Brussels".