Tajani criticises 'aggressive Commission' over battle between Rome and Brussels
Comments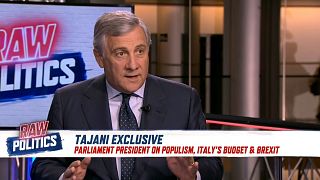 European parliament president Antonio Tajani has criticised the European Commission for its "aggressive" position over the Italian budget.
The Commission yesterday rejected Italy's budget and asked for it to be amended, the first time it has ever taken such a step.
Tajani said he also saw problems with the budget, but would prefer a different approach.
"I disagree with the Italian position but also I disagree with the language of the European Commission against Italy," he told Raw Politics' Tesa Arcilla.
"I disagree with the European Commission when the European is against one member state when its position is a strong position, an aggressive position. In this difficult moment for Europe, for the European institutions, because there are a lot of populist parties, we need to be calm, we need to study the content we need to decide not battle between Brussels and Rome."
Tajani said the budget failed to support smaller businesses or develop infrastructure to foster growth.
On Brexit, he called for an extension to the transition period, during which the UK will be outside the EU but retain compliance with its rules, to three years.