German teachers report themselves to far right party
Comments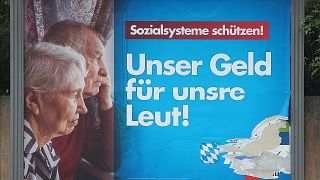 -
Teachers in Germany have mass reported themselves to the Alternative for Germany (AfD). It's after the far right party launched an online portal encouraging pupils to report the teachers if they criticised the political group or expressed biased political views.
In a letter signed by teachers from Lina Morgenstern School in Kreuzberg, Berlin, they asked that all their names be added to AfD's blacklist so it is publicly known that they disapprove of the AfD party.
"We attach great importance to being on this list because we will continue to ensure that school students are empowered to understand the character of your party," the teachers wrote, in a letter presented to the GEW teachers' union.
"We will inform our students when members and officials of your party engage in racist, inhumane, sexist, historical revisionist, antisemitic or anti-democratic activities that jeopardise our peaceful coexistence in society.
"From history, we know that what begins with denunciation and intimidation ends with the detention of dissenters in camps. For all these reasons, and because we are not intimidated, we would be honoured if you could put our names on your list of denunciations."
In a statement, GEW denounced the creation of the platform, calling It a "frightening development".
AfD is the third biggest political party in Germany, and made history last year when it scooped 92 parliamentary seats in the Bundestag after securing 12.6% of the vote in national elections.
It is well known for its anti-migrant views, climate scepticism, opposition to modern feminism and desire to limit adoption and marriage rights for same-sex couples. It has also been accused of having ties to neo-Nazi groups.
Called "Neutral School Berlin", AfD says its informant website is designed to protect free speech and erase the "climate of fear" which might be preventing students from expressing "uncomfortable" views and therefore risk being given "worse grades".
But critics have likened their methods of reporting dissent to the actions of a dictatorship.