Europe briefing: eight stories to know about today
Comments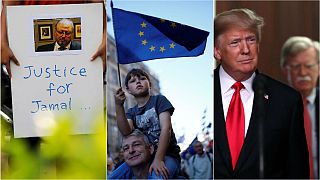 1. Khashoggi 'was murdered' at Saudi consulate
Saudi Arabia has admitted journalist Jamal Khashoggi was murdered at its consulate in Istanbul — after weeks of denials.
Foreign minister Adel al-Jubeir sought to shield Crown Prince Mohammed bin Salman by claiming it was a rogue operation in which "individuals exceeded their responsibilities".
Khashoggi, a critic of Saudi Arabia's policies, disappeared after entering the consulate on October 2 to obtain marriage documents.
Over the weekend, new footage emerged from Turkish broadcaster TRT World that purported to show previously unseen CCTV of Khashoggi entering the consulate while his Turkish fiancée, Hatice Cengiz, waited outside.
President Recep Tayyip Erdogan is set to reveal details of the Turkish investigation into the murder on Tuesday.
2. May rumours swirl after anti-Brexit march
British Prime Minister Theresa May is set to address parliament on Monday amid newspaper speculation she is set to face a vote of no confidence this week.
Her plan to quit Brussels has angered Brexiteers and pro-EU Conservative MPs alike.
It comes after an estimated 700,000 people marched in London over the weekend calling for a vote on whatever deal May brings back from Brussels.
Last week a November summit — planned for sealing a deal between Britain and the EU — was scrapped amid a lack of progress.
The key sticking point is the impact of Brexit on the Irish border, whose return could threaten peace between the Republic of Ireland and Northern Ireland.
3. US pulls out of key nuclear weapons treaty
The US has announced it will quit a key nuclear weapons pact between Washington and Moscow.
Trump said he was pulling out of the Intermediate-Range Nuclear Forces Treaty because of "Russian violations".
The pact eliminated nuclear missiles from Europe by banning the use of short-range or intermediate-range warheads.
Vladimir Putin is expected to quiz US national security adviser John Bolton about the withdrawal when he begins a two-day visit to Russia on Monday.
4. Firefighter dies in Spain flood
A firefighter died during flood rescue operations in southern Spain.
José Gil Gutiérrez disappeared when the truck he was travelling in overturned, according to the local fire service.
Almost 400 millimetres of rain fell in 24 hours in the town of Ardales - around 62 km (40 miles) from the main city of Malaga - alone, according to the regional government's environmental department.
5. Migrants die after boat sinks just metres off Turkish coast
Two people died after a boat carrying migrants sank just 50 metres off Turkey's western coast near Bodrum early on Monday, the coastguard said.
Seventeen people on the boat were rescued and three made it to shore by themselves, the coastguard said. Two of those people later died at the hospital, it said.
It did not specify the migrants' nationalities.
6. Italy 'ready to discuss' budget with EU
The Italian government is ready to sit and discuss its budget targets with European Union authorities, Deputy Prime Minister Luigi Di Maio said on Monday, restating that the populist coalition had no plan to leave the euro.
Italy has come under fire in Brussels with a plan to lift the budget deficit to 2.4% of economic output next year from 1.8% in 2018. The European Commission has labelled Rome's 2019 draft budget an unprecedented breach of EU fiscal rules.
Di Maio told radio RTL 102.5 that Italy would send a letter to the commission explaining its reasons for sticking to the 2.4% goal, and that the government was ready to "sit at the table".
7. Holocaust denier dies aged 89
French academic and Holocaust denier Robert Faurisson has died aged 89, his family has said.
Faurisson, a former professor of literature at the University of Lyon, faced a cascade of lawsuits after his controversial claim that the Nazi genocide of Jewish people during WWII was a lie.
"Robert Faurisson had returned from England and collapsed in the hallway of his home in Vichy," his sister told AFP news agency.
Former British far-right leader Nick Griffin paid tribute to Faurisson on Twitter.
8. Pupil charged after pointing fake weapon at teacher
A 15-year-old pupil who was filmed pointing a fake weapon at a teacher in France has been charged with aggravated violence.
The video of the boy at a school in the Parisian suburb of Creteil emerged last week and prompted shock within French political circles.
It purported to show him point the weapon at the teacher and demand that she mark him present in class even though he had turned up late.