Poland's local elections being watched closely in Brussels
Comments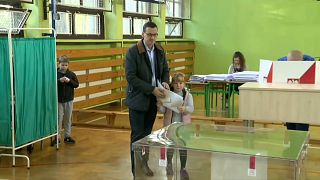 Voters in Poland are taking part in regional elections seen as a key test for the ruling Law and Justice party, whose policies are making waves in Brussels amid fears of a shift towards authoritarian rule.
A good result for the party would add to concerns ahead of European Parliament elections in May, by boosting eurosceptic groups that want EU powers reined in.
A spike in support would be a major upset for the Civic Platform, the home party of European Council President Donald Tusk.
The Law and Justice party swept into power in 2015 on a promise of voter-pleasing welfare reforms, social conservatism and a bigger state role in the economy.
The election is part of a larger struggle over Europe's future, as Brexit and Hungary's Viktor Orban shake up the bloc and right-wing parties make gains across the continent.
EU leaders say changes the ruling party has made to Poland's judiciary threaten the rule of law in the country and have triggered a sanctioning procedure.