Evidence suggests hostage-taker in Cologne had Islamist motive - prosecutor
Comments
By Reuters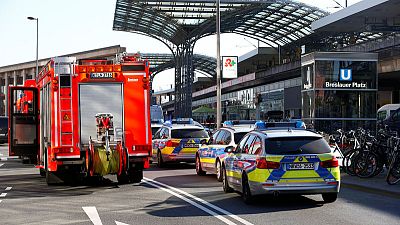 -
BERLIN (Reuters) – German prosecutors said on Wednesday there was evidence the Syrian man who took a woman hostage in Cologne on Monday had a radical Islamist motive.
The chief federal prosecutor said witnesses reported that the man, identified only as Mohammad A.R., had said he was a member of Islamic State and wanted to travel to join the group in Syria.
He had made demands by phone to be allowed to travel to Islamic State in Syria, the prosecutor said in a statement.
"Based on the knowledge we have now, there are sufficient indications that there was a radical Islamist background to the act," it said.
Police said on Tuesday the suspect was in a coma after being shot several times but his life was not in danger.
The suspect poured a flammable liquid on the floor of a fast food restaurant and lit it, and a 14-year-old trying to escape the flames fell and suffered burns, the prosecutor said.
The suspect is charged with attempted murder and causing grievous bodily harm.
Prosecutors said they were investigating whether the suspect had carried out the attack on behalf of IS or another terrorist organisation and whether there were accomplices.
(Reporting by Michelle Martin; Editing by Maria Sheahan)