Crimea: Student 'shoots himself' after deadly bomb and gun rampage at college
Comments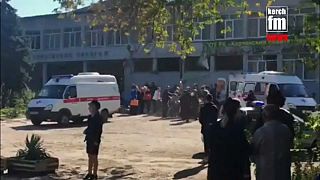 At least 19 people were killed and dozens more wounded in an attack on a college in Crimea on Wednesday by a student who then killed himself, officials said.
Eighteen-year-old Vladislav Roslyakov has been identified by Russian investigators as the attacker.
Officials say he turned up at the technical college in the city of Kerch carrying a firearm and then began shooting. His body was later found in the college with "self-inflicted gunshot wounds."
Crimea's Russian-backed prime minister Sergei Aksyonov told Russian news agency TASS that the attacker was a fourth year student at the college who "acted alone".
"It's a colossal tragedy," he said on television.
Investigators said most of the victims were teenagers.
They added in a statement on their website: "According to preliminary information, today in the dining room of the Kerch Polytechnic College an unidentified explosive device filled with metal objects exploded."
Officials cited by RIA news agency said a second explosive device was found at the scene and had been disarmed.
Dmitry Peskov, spokesman for Russian President Vladimir Putin, initially said officials were looking into the possibility that the shooting and blast was a terrorist attack. But federal investigators later ruled this out.
"I would like to express my condolences to the relatives of the deceased, and also to express my hopes that the wounded will recover as soon as possible," said Putin, speaking at a joint news conference with his Egyptian counterpart Abdel Fattah al-Sisi.
"The motives and the exact version of events of this tragedy are being studied really carefully and we will inform the public about the result of the investigation by the security and special services," he said.
Olga Grebennikova, the headmistress of the college, was filmed on her mobile phone talking about the attack.
"There are dead people, killed people. We had an event and I went to BTI (Bureau of Technical Inventory) to sign an agreement on children's training. I would have been dead now," she said.
Anastasia Yenshina, a 15-year-old student at the college, told Reuters she was in a toilet on the ground floor of the building with some friends when she heard an explosion.
"I came out and there was dust and smoke, I couldn't understand, I'd been deafened," she said. "Everyone started running. I did not know what to do. Then they told us to leave the building through the gymnasium."
"Everyone ran there... I saw a girl lying there. There was a child who was being helped to walk because he could not move on his own. The wall was covered in blood. Then everyone started to climb over the fence, and we could still hear explosions. Everyone was scared. People were crying."
Photographs from the scene of the blast showed that the ground floor windows of the two-storey building had been blown out, and that debris was lying on the floor outside.
Emergency services and military personnel were deployed to the scene.
Russia annexed Crimea from Ukraine in 2014.