Ex-Intelligence committee staffer pleads guilty to lying to FBI about leaks to reporters
Comments
By Pete Williams with NBC News Politics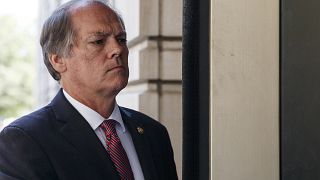 Copyright

Carolyn Kaster AP file

-
WASHINGTON — The former director of security for the Senate Intelligence Committee pleaded guilty on Monday to lying to the FBI about contacts with reporters covering the committee's investigation of Russian election meddling.
James Wolfe, 57, of Ellicott City, Maryland, admitted in court that he lied to the FBI in December 2017 when he denied providing unclassified but non-public information about a witness who had been subpoenaed to testify before the committee.
Wolfe was indicted in June. charged with three counts of making false statements to FBI agents who were investigating the leak of classified information. In return for his plea, the government said it would move to dismiss the other counts when he is sentenced. He could face up to six months in prison.
Wolfe had been the committee's security director for nearly 30 years. He told FBI agents last December that he had no contacts, personally or professionally, with specific reporters covering the committee's work. When FBI agents confronted him with a photo, showing him with one of the reporters, he admitted that he lied to the agents and was, in fact, in a personal relationship with her.
Court documents also revealed a series of text messages between Wolfe and reporters, which violated Intelligence Committee rules that required him to clear any contacts with reporters in advance. After a story about the witness appeared, Wolfe texted, "Good job!" and "I'm glad you got the scoop," according to court documents.
The New York Times later said one of the journalists, Ali Watkins, told the paper's editors that she and Wolfe were involved in a three-year affair that ended before she came to the Times, where keeping tabs on the committee's work was part of her beat.
Wolfe's lawyers said in a statement, "Jim has accepted responsibility for his actions and has chosen to resolve this matter now so that he and his family can move forward with their lives."
Wolfe will be sentenced December 20.