Warren releases DNA results showing she has Native American heritage
Comments
By Mike Memoli and Adam Edelman with NBC News Politics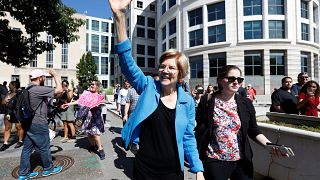 -
Copyright

Kevin Lamarque Reuters
Sen. Elizabeth Warren, who has faced repeated ridicule from President Donald Trump over her claims that she has Native American ancestry, has released a DNA test that says there is "strong evidence" that she is of Native American descent.
The Massachusetts Democrat's release of the test highlights how prepared she is to take on Trump — who has repeatedly referred to her as "Pocahontas" — over his insults and indicates she is working to shore up possible political weaknesses, ahead of a possible 2020 presidential run, by addressing her family background and charges she misrepresented it to gain unfair advantage in her career.
The release of Warren's DNA test was first reported by The Boston Globe,which obtained news of the results before they were released by the senator.
The test, conducted by Stanford University professor Carlos Bustamante, a genetics and genomics expert, concludes that there is "strong evidence" that Warren's "DNA sample of primarily European descent also contains Native American ancestry from an ancestor in the sample's pedigree 6-10 generations ago," according the test's executive summary.
According to the summary, Bustamante concludes with 99 percent confidence that Warren's DNA sample contains five genetic segments, spanning 12.3 million DNA bases, which are "Native American in origin." The report also details the results of "several additional analyses to confirm the presence of Native American ancestry and to estimate the position" of an "unadmixed Native American Ancestor" — meaning an ancestor with "100 percent ancestry assigned to a single population" — in Warren's family tree.
Warren also released a video along with the results that not only seeks to address head-on the single biggest attack from Republican critics, but offers the intensely personal Warren a platform to introduce herself to a larger audience.
She retraces her roots in Norman, Oklahoma, "on the ragged edge of the middle class," and the "twists and turns" that followed in her personal and professional life.
The video includes testimony from three of her brothers, a nephew, and a cousin who is a Cherokee Nation citizen. They note that her father's family was bitterly opposed to her parents' marriage because of her mother's claims of Native American heritage.
It also features faculty members from various colleges and universities where Warren taught, backing up Warren's assertion that her background "played no role in my hiring."
The video also shows Warren receiving the test results from Bustamante in a phone call.
"The president likes to call my mom a liar. What do the facts say?" Warren tells Bustamante on the phone in the video.
"The facts suggest that you absolutely have Native American ancestry in your pedigree," Bustamante responds.
Warren has sought to address the controversy before in a more muted way. In February, she addressed the National Congress of American Indians, where she reiterated that her claims of ancestry were based on the story passed down through her family, but acknowledged that only Native American tribes truly determine citizenship.
In that speech, she explained that her mother's family was "part-Native American" and that her parents eloped in 1932 because her father's family opposed the relationship.
Warren also said that she "never used my family tree to get a break or get ahead" and "never used it to advance my career."
Warren has faced repeated attacks from Trump over her claims that she is of Native American descent. He began using the "Pocahontas" slur to attack Warren during the 2016 campaign, and has said that Warren had "made up her heritage, which I think is racist."
In July, at a rally in Montana, he challenged Warren to take a DNA test and said he would pay $1 million to her "favorite charity if you take the test and it shows you're an Indian."
Warren faced similar attacks about her heritage during her 2012 Senate race against Republican Scott Brown. Brown claimed she had dishonestly listed herself as Native American while working as a faculty member at the University of Pennsylvania and Harvard to help her career.
Warren denied the charges at the time.