Trump dismisses sex assault claim against Kavanaugh as 'Democrat hoax'
Comments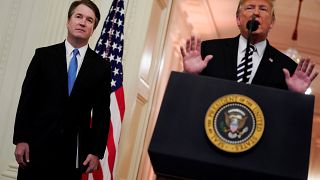 -
Brett Kavanaugh has been sworn in again as Supreme Court Justice at a ceremonial event at the White House, after his nomination was confirmed by a Senate vote on Saturday.
Senators voted 50 to 48 in favour of his nomination, amid allegations from three women of sexual misconduct by Mr Kavanaugh – all of which he has denied.
President Trump took the opportunity to defend Republican Kavanaugh, dismissing the claims as a "disgrace", and a politically–motivated "hoax" devised by his rival Democrats.
The Senate vote largely followed party lines and the result will be seen as a political victory for Trump, tilting the balance in the nation's highest court strongly in favour of the Republicans.
Speaking at the swearing–in ceremony, Mr Trump said: "On behalf of our nation, I want to apologise to Brett and the entire Kavanaugh family for the terrible pain and suffering you have been forced to endure."
He went on to describe the assault allegations as a "campaign of political and personal destruction based on lies and deception".
The President stated that Mr Kavanaugh had been "proven innocent" of any wrongdoing.
Last week, the FBI completed a report into the claims of all three women against Mr Kavanaugh, but the findings have not been released to the public.
One of the women is California professor Christine Blasey Ford, who testified under oath before a Senate Committee hearing in September that Kavanaugh sexually assaulted her at a high school party in 1982.
He was 17 years old when the alleged incident took place, and she was just 15.
In a public show of support for Kavanaugh, Trump mocked Dr Blasey Ford's testimony at a rally in Mississippi last week – a move that was widely criticised, even by some of his fellow Republicans.
Addressing the White House during his swearing–in, Mr Kavanaugh said he would not let what he described as a "bitter" confirmation process affect his work.
Making no specific reference to the sexual assault claims, he said: "The Senate confirmation process was contentious and emotional.
"That process is over. My focus now is to be the best Justice I can be."
Kavanaugh was nominated by Trump in July for the position of Supreme Court Justice, which is a lifelong appointment.
With the all–important congressional elections on the horizon, President Trump will be hoping the battle over Mr Kavanaugh's confirmation will boost Republican voter enthusiasm and prevent a Democratic takeover of Congress.
The latest polls indicate that the Democrats are in a strong position to take back the House of Representatives, and stand a chance of regaining a majority in the Senate and winning a number of governorships.
The midterms, which will shape the remainder of Mr Trump's presidency, will take place on November the 6th.