Romania's marriage referendum fails to attract enough voters
Comments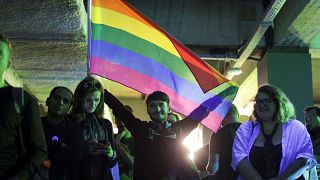 A referendum which sought to change Romania's constitution to make gay marriage less accessible has failed to meet the minimum turnout needed for the result to be valid.
The country's national election bureau said Sunday that only 20.4% of voters took part, significantly less than the required 30% baseline.
What happened?
Romania held a controversial referendum on October 6 and 7 that could have made it harder than ever for gay marriage to be legalised.
Same-sex marriage or civil unions are already illegal and the poll was a bid to make it harder to unpick this legislation.
It came after the approval of same-sex marriage in a host of EU countries since the turn of this century.
Campaigners behind the referendum wanted to stop this wave washing into Romania.
What were voters asked?
Romanians were asked if they wanted to change the constitution to recognise marriage as being between a man and a woman.
The gender-neutral definition at present has it as being "a union of spouses".
Coalition for the Family, a group of NGOs that helped trigger the vote, feared the current wording opened the door to gay marriage being legalised in the future.
What has the reaction been?
Vlad Viski, president of LGBT rights group MozaiQ, said he was "extremely thrilled that Romanians rejected hatred" by boycotting the vote.
He said the result has showed that the "church has no place in politics".
Going forward, he told Euronews he would now focus on pushing for the legalisation of civil unions as soon as possible.
ILGA-Europe, a network of lesbian, gay, bisexual, transgender and intersex (LGBTI) groups, also celebrated the result.
"The campaign of hate against the LGBTI community in Romania failed. But the referendum once again showed how vulnerable the LGBTI community is, in the absence of proper legal recognition of same-sex partnerships and families. It is time that Romania finally ensured that same-sex couples are legally recognised," ILGA-Europe Advocacy Director Katrin Hugendubel said in a statement.
Mihai Gheorghiu, president of the Coalition for the Family, a group of NGOs that helped push forward the vote, told Euronews he did not want to make any public statement on the outcome of the referendum.
Read more about Romania's marriage referendum.