Nobels in Numbers: Euronews brings you stats about the famous prize
Comments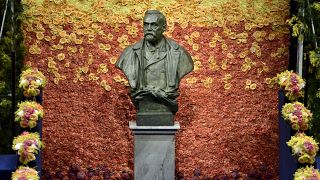 The Nobel Prize in Numbers
So far the Nobel Prize has been awarded 585 times with a total of 923 prizes, of which were 896 people and 27 organisations.
Some were awarded the prize several times, this meant a total of 892 prizes and 24 organisations.
A total of 844 men and 48 women have received the award.
More than one prize
Receiving the most awards is The Red Cross International Committee which received the Nobel Prize in 1917, 1944 and 1963;
The United Nations High Commissioner for Refugees (UNHCR) received it twice (1954 and 1981);
American John Bardeen received the Nobel Prize in Physics twice (1956 and 1952);
Marie Curie was awarded the prize twice - in chemistry (1911) and physics (1903);
The Curie family has a selection of Nobel Prizes. Marie's two (above). One for Pierre (he shared Physics in 1903). One for the couple's daughter Irène Joliot-Curie (Chemistry 1935) which she shared with her husband, Frédéric Joliot. On top of these, Marie and Pierre's son-in-law Henry Labouisse accepted the Nobel Peace Prize on behalf of UNICEF (he was Executive Director) in 1965.
Linus Pauling, the chemistry winner of 1954, won the Nobel Peace Prize in 1962.
Youngest
Malala Yousafzai, Pakistan's only winner and the youngest, won the Nobel Peace Prize at the age of only 17, overthrowing a century-old record of British lawmaker William Lawrence Bragg, who was awarded a Nobel Prize in Physics aged 25-years-old in 1915 (a joint winner with his father).
Oldest
The oldest distinguished scholar is Leonid Hurwicz, who at the age of 90 became an economic's prize-winner in 2007.
Meanwhile, Doris Lessing is the eldest woman and was awarded the Nobel Prize for Literature in 2007 at the age of 88.
The eldest Nobel Prize living winner today is 98-year-old Swiss biochemist Edmond Henri Fischer, who won for medicine in 1992.
The average age of those awarded is 60 years old.
According to statistics, economists are recognised being the oldest winners, with an average age of 67 years.
The average age of the youngest are physicists at 55.
At age 96, Arthur Ashkin is now the oldest Nobel Laureate 2018
Groups of families
Five married couples (Marie Curie & Pierre Curie, Irene Joliot-Curie & Frederic Joliot, Gerty Cori & Carl Cori, May-Britt Moser & Edvard I Moser, Alva Myrdal & Gunnar Myrdal)

One mother and daughter (Marie Curie & Irene Joliot-Curie)

One father and daughter (Pierre Curie & Irene Joliot-Curie)

Six fathers and sons (William Bragg & Lawrence Bragg, Niels Bohr & Aage N. Bohr, Hans von Euler-Chelpin & Ulf von Euler, Arthur Kornberg & Roger D. Kornberg, Manne Siegbahn & Kai M. Siegbahn and J. J. Thomson & George Paget Thomson)

Two brothers (Jan Timbergen & Nikolaas Tinbergen)
Other prize trivia
Adolf Hitler was a nominee (1939) but his nomination was withdrawn by the nominator who only nominated him ironically and was surprised when it was taken seriously.
French novelist and playwright Jean-Paul Sartre refused as he didn't want it to limit the impact of his writing
The Vietnamese Lê Đức Thọ in 1973 rejected his in 1973 as there was no peace in Vietnam at that time.
Aung San Suu Kyi's 1991 Peace Prize will not be withdrawn despite a United Nations report that said Myanmar's military carried out mass killings of Rohingya Muslims. Members of the academy have said that awards are for the past actions of the laureate, not what they do after winning.
Donna Strickland is the first woman in 55 years to win
Nobel Prize in Physics 2018 and the third ever.