Indonesia earthquake tsunami: hundreds killed
Comments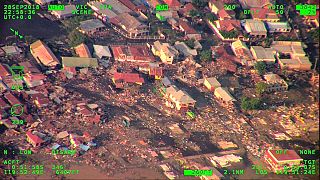 At least 384 people have died after an earthquake hit the Indonesian island of Sulawesi on Friday. The 7.5-magnitude earthquake triggered a tsunami and has destroyed thousands of homes. Electricity and communication networks are down with death tolls expected to rise in coming days.
The earthquake hit just off central Sulawesi which is northeast of the Indonesian capital, Jakarta.
Videos are circulating on social media showing the moment of impact. Hundreds of people had gathered for a beach festival in the city of Palu when the tsunami smashed on shore.