Kavanaugh's accuser 'to testify on Thursday'
Comments
By Reuters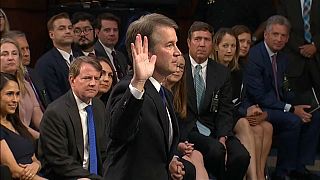 A woman who has accused US Supreme Court nominee Brett Kavanaugh of sexual assault has
tentatively agreed to testify before a Senate panel on Thursday, according to media reports.
The agreement is in the works for California professor Christine Blasey Ford to possibly testify, but details have yet to be finalised, the reports said.
Her lawyers are expected to talk again on Sunday with Senate officials.
U.S. Senate Judiciary Committee Chairman Chuck Grassley had set a Saturday afternoon deadline for Ford, who has accused Kavanaugh of sexual assaulting her at a high school party 36 years ago, to decide whether and how she will testify.
"Dr. Ford accepts the committee's request to provide her first-hand knowledge of Brett Kavanaugh's sexual misconduct next week," Debra Katz and Lisa Banks, Ford's attorneys, said in a statement. "We are hopeful that we can reach agreement on details."
A White House official said it appeared that Ford's lawyers were trying to prolong negotiations.
The committee had delayed a vote on Kavanaugh's confirmation after Ford's allegation emerged last week and her lawyers were negotiating with committee staff the conditions of her testimony. Kavanaugh has denied the allegation and pledged to testify.
Confirming Kavanaugh's nomination would cement conservative control of the Supreme Court and advance a White House effort to tilt the American judiciary farther to the right.
On Friday, President Donald Trump sought to cast doubt on Ford's allegation that Kavanaugh sexually assaulted her in 1982 when both were high school students in Maryland.
"Judge Brett Kavanaugh is a fine man, with an impeccable reputation, who is under assault by radical left wing politicians who don't want to know the answers, they just want to destroy and delay," Trump said.