Watch: Macron dubs Brexiters 'liars'
Comments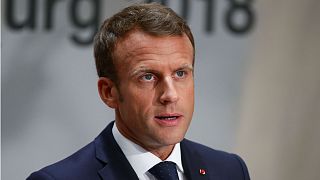 Copyright

REUTERS/Lisi Niesner
French President Emmanuel Macron has dubbed Brexit campaign leaders "lairs", saying they misled the British people.
"Those that say we can easily live without Europe, that everything is going to be alright and that it's going to bring in a lot of money are liars," Macron said.
"It's even truer since they left the day after so as not to have to deal with it," he said in a passionate speech delivered at the Salzburg summit.
Those who campaigned for Brexit hit back, including hard-Brexiter Conservative MP Iain Duncan Smith.
He told the Guardian: "Monsieur Macron is not only out of order, he's completely wrong. The EU is doing their classic case of trying to bully the UK in a variety of ways into taking a different position."
On Friday afternoon, British Prime Minister Theresa May took a defiant stance in a speech on Brexit following criticism of her Chequers plan from EU leaders in Austria.