May takes defiant stance with EU over Brexit
Comments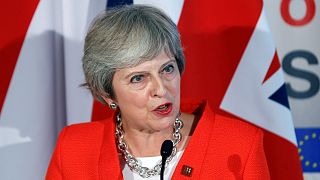 Copyright

REUTERS/Leonhard Foeger
British Prime Minister Theresa May today gave a speech on Brexit following criticism of her Chequers plan from EU leaders after its frosty reception during a summit in Austria.
May said both sides want a deal but there are two areas where the UK and the EU are "a long way apart".
She also sought to reassure those living in Northern Ireland that her government would do everything to prevent a hard border with the Irish Republic.
Calling out President of the European Council Donald Tusk, the prime minister said he had rejected proposals without offering a sufficient explanation or counterproposal.
"I have treated the EU with nothing but respect, we expect the same. A good relationship at the end of this process depends on it," she added.
On the subject of a second referendum vote, she said she would "not break up my country or disrespect the referendum result."
With a defiant tone, May concluded by saying: "We need serious engagement on resolving the two big problems in the negotiations and we stand ready."
Watch the full speech here: