French Interior Minister resigns in fresh blow to President Macron
Comments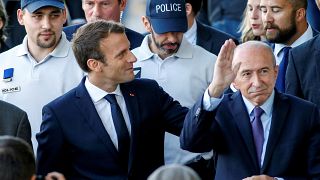 -
France's President Emmanuel Macron has been forced to accept the resignation of Interior Minister Gérard Collomb - having previously rejected it only 24 hours earlier.
Collomb was one of Macron's earliest and most loyal supporters, and his departure from the cabinet is the latest in a series of blows to the President.
This is the third resignation from the cabinet in just six weeks, and in the last week Macron's approval rating has dropped to an all-time low of just 29%.
71-year-old Collomb is set to run for the office of mayor in his hometown of Lyon in 2020 - a post he previously held for 16 years, until July 2017.
When asked about his intention to resign, he said: "The French people and the people of Lyon need clarity.
"Considering the rumours and the pressure, I don't want the fact I will be a candidate somewhere tomorrow to affect the way forward for the Interior Ministry."
Macron is known for expecting loyalty from his cabinet, and it was anticipated that Collomb would remain in office until 2019, when he is set to begin his mayoral campaign.
However, relations between the two politicians appeared to deteriorate in recent weeks, with Collomb accusing his former ally of having a "lack of humility" in his administration.
He also said the president's use of phrases such as "start-up nation" show that he is out of touch with the population.
Collomb was one of the first Socialist Party heavyweights to back the candidacy of Macron ahead of the April 2017 presidential election, which he won with 66% of the vote.
40-year-old centrist Macron has already been forced to replace his Sports Minister Laura Flessel and Environment Minister Nicolas Hulot.
Hulot, a former TV personality, cited the government's lack of progress in tackling climate change as one of his reasons for resigning.
Recently, critics of Macron have accused him of introducing policies that favour the wealthy, and his personal manner is often described as aloof and arrogant.
The struggling President has repeatedly vowed to reinvigorate France's economy, but so far his pro-business policies have failed to improve the financial climate, and growth forecasts have been cut to 1.6%.
Prime Minister Edouard Philippe will assume the responsibilities of Interior Minister until Collomb's successor is announced.