UK's Brexit stance 'surprisingly tough and uncompromising', says Tusk
Comments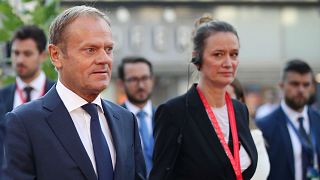 Hours after British Prime Minister Theresa May made a statement on Brexit, taking a defiant stance with the EU, European Council President Donald Tusk has released a statement addressing the negotiations.
He said the UK's position, presented just before and during the Salzburg meeting, was "surprisingly tough and in fact uncompromising".
The president underlined his previous stance in which he said Chequers indicated a positive evolution in the UK's approach as well as a will to minimise the negative effects of Brexit.
"We decided that for the good of the negotiations, and out of respect for the efforts of PM May, we will treat the Chequers plan as a step in the right direction," he said.
May earlier took a harsh rhetoric with the EU chief in her discourse, calling him out for rejecting proposals without offering a sufficient explanation or counterproposal.
The council president concluded his statement by adding: "I say these words as a close friend of the UK and a true admirer of PM May."
Tusk said that the European Union and its leaders fully respect the UK's decision expressed in the referendum on leaving the EU.