Captain arrested in Tanzania ferry disaster as death toll climbs to 224
Comments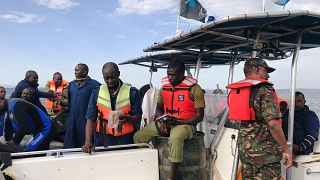 The captain of an overloaded ferry that capsized on Lake Victoria has been arrested as Tanzania mourns more than 200 people killed.
Tanzanian President John Magufuli said the captain is in custody and ordered the arrest of all the other operators of the ferry, which capsized Thursday.
Magufuli told the nation in that the captain left the ferry's steering in the hands of a person not trained for the job, The Citizen newspaper reported.
The death toll rose to 224,but it's expected to go up as more bodies are pulled out of the water.
Initial reports indicated that overloading contributed to the disaster, but an investigation will determine the exact cause, the Tanzanian leader said.
Four navy divers resumed their search after hearing sounds that suggested signs of life.
According to one survive named Charles Ngarima said everything happened very quickly.
"The ferry overturned very fast and covered us," survivor Ngarima told Reuters. "I was lucky that I was able to swim underwater not knowing where I was swimming to... While trying to swim to safety, I found a number of metal bars that cut my face and the back of my head."
Another survivor, Jennifer Idhoze, said the ferry had capsized because it was overloaded. "I was able to jump out of the ferry... That is how I survived," she said.
What happened?
The MV Nyerere, an open deck ferry, was travelling between the islands of Ukerewe and Ukora on Lake Victoria in northern Tanzania. The largest freshwater lake in Africa, it also borders Kenya and Uganda.
It capsized and sank not far from the shore, just before docking. According to at least one eyewitness, large numbers of people suddenly moved to one side of the vessel all at once.
There were distressing scenes as dozens of people floundered in the water, as hundreds watched helplessly from the shoreline.
Local people joined in rescue efforts and fishermen are said to have saved some 20 or 30 people.
A history of ferry disasters
Earlier this decade Tanzania suffered two nautical disasters off the island of Zanzibar in the Indian Ocean.
In July 2012 the Skagit passenger ferry sank in rough seas after leaving Dar es Salaam with more than 250 people on board. As many as 150 are thought to have died.
The previous September had seen an even worse disaster. The Spice Islander ferry had over 2,000 passengers when it sank off Zanzibar. The number of dead was put at over 200 but a government report later said more than 1,300 were missing.
Lake Victoria witnessed tragedy in 1996 when the steamer MV Bukoba capsized in one of the worst ferry disasters of the 20th century. More than 700 of an estimated 1,000 people on board were killed when the ship sank before docking at the lake's southern port of Mwanza, after sailing from Bukoba on the western shore.