Turin out: Italy moves forward with joint-Milan and Cortina d'Ampezzo Olympic bid
Comments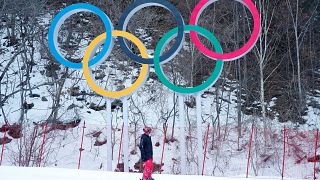 Italy's bid for the 2026 Winter Olympics has one less city following Turin's exclusion. Italy will now present a joint bid involving the two northern cities of Milan and Cortina d'Ampezzo.
Turin, which hosted the 2006 Winter Games, has been dropped from the proposal after Turin mayor Chiara Appendino was unable to reach an agreement with Milan mayor Giuseppe Sala, regarding bid leadership and naming rights.
The Italian Olympic Committee is sending a delegation featuring Milan and Cortina representatives to meet with International Olympic Committee (IOC) leaders on Wednesday.
Preliminary bids are due to be presented at IOC meetings in Buenos Aires, Argentina, next month.
Events such as hockey and speed skating were originally slated to take place in Turin, where venues were already built for the 2006 games, will now take place in Milan. Alpine skiing and other mountain events will be hosted in Cortina d'Ampezzo, where the 1956 Winter Olympics were held.
Italy is now eager to host the Olympics, after Rome's bid for the 2024 Summer Olympics fell through. Rome's Mayor Virginia Raggi strongly opposed the capital hosting the games and warned in 2016 that the Olympics are dreams that "turn into a nightmare."
Calgary, Canada, Stockholm, Sweden and Erzurum, Turkey, are the three other bids still in contention for 2026. Sapporo, Japan, was another city on the shortlist to host the games, but withdrew their bid after a recent magnitude-6.6 earthquake.