Macron's former security officer defends himself before Senate
Comments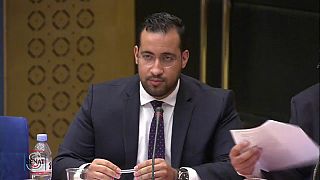 He is the man who symbolizes the beginning of a dark period for French President Emmanuel Macron.
Alexandre Benalla defended himself before a Senate inquiry on Wednesday.
This former security officer for the President was fired after video showed him beating May Day protesters.
The 27-year-old has been accused of abusing his office and securing powers unchecked by higher Élysée staff.
Before the committee he thanked by the Elysée and defended himself as a simple "coordinator" - responsible for logistics.
He denied having been a bodyguard to the head of state and remained vague on the conditions of his recruitment.
Questions remain about how he obtained a Gluck 43 pistol and how he ended up directly engaged in security at the May Day demonstration in Paris.
Since this controversy, Macrons entire summer has been marred with misfortune....
After the dismal departure of its emblematic Minister of Ecology, Nicolas Hulot, it is the turn of the Minister of the Interior to discuss his future goodbyes.
Gérard Collomb has announced his desire to run for mayor of Lyon again, so he will leave the place Beauvau after the European elections.
To ward off bad luck, the president is multiplying his announcements, with a poverty plan and a health plan, to keep his head out of the water.
When the Benalla scandal erupted in mid-July, Emmanuel Macron described it as a storm in tea cup. 
But two months later, we can see that this case has seriously impacted his credibility, not only in France but also in Europe.
After Benalla, the resignation of Nicolas Hulot and bad economic figures for the country, European leaders have begun to doubt his ability to reform France and Europe.