Macron: "The only person responsible for this case is me"
Comments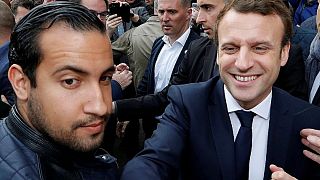 Six days after the Benalla case broke, Emmanuel Macron ended his silence at a meeting with his party's MPs Tuesday night over the security aide scandal.
The French President says he takes responsibility and condemns Alexandre Benalla's behaviour as a "betrayal".
"The only person responsible for this case is me and me alone. You cannot be a leader in good times and want to escape in difficult times. If they want to know who's in charge, he is standing before you. Let them come and get him, and this person in charge, he answers to the French people and sovereign people, and no one else".
He light heartedly says, "Alexandre Benalla never held the nuclear code, Alexandre Benalla has never occupied a 300 square meters flat at the Alma, Alexandre Benalla has never earned 10,000 euros per month, nor has Alexandre Benalla ever been my lover. Alexandre Benalla, Alexandre Benalla, even a porter for a day has never later had these functions."
Meanwhile, Benalla's lawyer claims the security aide believed he was acting as a "good citizen" when he assaulted the two protesters on May the first, and describes the scandal as a "non-event ... overblown collective hysteria".