Macron under increased pressure over bodyguard
Comments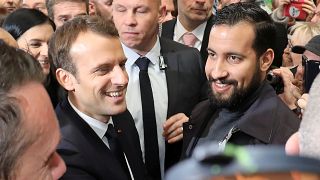 French President Emmanuel Macron is facing the biggest political crisis of his tenure after interior minister Gerard Collomb said he was told the presidency would deal with a bodyguard filmed hitting May Day protesters.
French opposition conservative parties have also called for a vote of no-confidence in the President over his failure to punish Alexandre Benalla.
Benalla was placed under investigation on Sunday after being identified in a video.
He was off duty from work and wearing a riot helmet and police tags while embedded as an observer.
Taha Bouhafs, author of the video, explained why he filmed the incident.
"At the time, I had no idea they were Emmanuel Macron's supporters," he said. "For me, they were police officers, and that's why I took out my phone, to film the scene to denounce police violence."
Bouhafs added: "Macron must explain himself, I, as a demonstrator, as a witness, I need to know the truth. We've been talking about it for a few days now, it's been two and a half months since it happened and we still don't have the truth, we still don't know what happened."
The French leader fired the bodyguard on Friday and has not publicly commented on the case since it broke a week ago.