Elon Musk's Big Falcon Rocket: what you need to know
Comments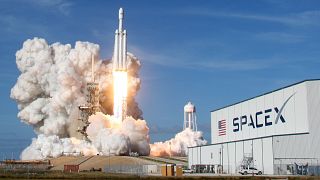 Copyright

REUTERS/Thom Baur/File Photo
SpaceX, Elon Musk's space transport company, has named its first private passenger on a voyage around the moon. The lucky traveller is Japanese billionaire Yusuku Maezawa, founder and CEO of online fashion retailer Zozo.
The former punk band drummer hopes to make his moon flight in 2023 aboard the upcoming Big Falcon Rocket (BFR) spaceship, in what looks set to be a milestone in the race to commercialise space travel.
What is the Big Falcon Rocket?
The Big Falcon Rocket is based on the name of the SpaceX fleet's existing Falcon rockets.
The system will have two re-usable sections. A 19-storey booster will blast the apparatus — nearly 60 metres long and 118 metres long — into space. On top of the booster will be a 16-story spaceship, which will then be detached and will have its own engines to complete the journey.
The idea is that tanker spaceships will be on hand to refuel the main spaceship.
In February this year a global audience was transfixed by the successful test launch of the Falcon Heavy, the most powerful operational rocket in the world that was originally lined up to take space tourists to the moon — before being set aside for that purpose in favour of the BFR.
How far will it boldly go?
Elon Musk has promised that his Big Falcon Rocket will shuttle passengers to the moon and eventually fly humans and cargo to Mars.
The BFR was originally intended to take people from Earth to the red planet. SpaceX's ability to reach Mars and set up an outpost will depend on it.
A one-way journey to Mars is expected to take around six months.
When will it be ready for launch?
The Big Falcon Rocket is still being developed at the Port of Los Angeles. Musk has said he hopes to construct the first prototype by mid-2019 and then launch several tests from the company's rocket facility in South Texas.
It's hoped the first passenger moon flight will happen sometime in 2023, although previous projects have suffered delays. Watch this space.
Musk has said that he wants the rocket to be ready for an unpiloted trip to Mars in 2022, with a crewed flight in 2024.
Hasn't this space trip to the moon been promised before?
In February 2017 SpaceX said two people had bought tickets to the moon for a flight that was supposed to take place this year.
The flight would have used the company's Falcon Heavy rocket and Dragon crew capsule, taking the pair on a loop around the moon before returning home. The trip was to have taken around a week.
However, Elon Musk later said that the trip had been delayed to allow for the production of the BFR. As things stand, there are no plans to authorise the Falcon Heavy to carry humans in space. The Dragon crew capsule is still being tested.