Russia military: Fifth day of Vostok 2018
Comments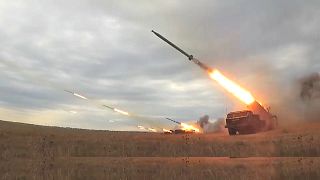 It's the fifth day of the largest Russian military exercise, Vostok-18, and the military test their multi-rocket launcher and howitzer artillary. Three hundred thousand troops are being put to the test as air, sea and land drills take place close to the border with China.
Our reporter Galina Polonskaya is covering the exercise at a training military base at Klerka for us and she says it's a real show of force. "Disembarkation of the combat landing in the Sea of Japan - this is a part of Vostok 2018, where the drills will go down in history as the largest in Russia. The goal is to check for combat readiness. The world media made their conclusion, they write in the headlines - Russia will not let anyone attack her".
Japan has concerns of the proximity of the military build-up so close to the Kuril Islands which both countries are in dispute over since the second world war.
It's prevented them both signing a peace treaty. But Moscow says the exercise has been long in the planning and is purely defensive in nature.
Deputy Marine Brigade Commander, Michail Gudkov says, "Manoeuvres are held in various theatres of military operations, in different climatic locations in different time zones and attract different skills and strengths of the troops".
It's certainly a huge display of strength as NATO keeps a watchful eye on the war games and says Russia is simulating a large scale conflict.