President Putin offers to sign a peace treaty by the end of this year with Japan
Comments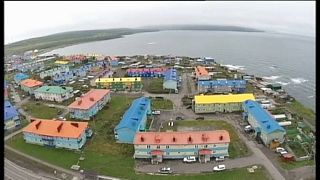 The Russian President offers to sign a peace treaty by the end of this year with the Japanese Prime Minister. Vladimir Putin made the suggestion at a conference stage on Wednesday. It's to formally end World War Two hostilities between their countries.
The Russian President says, "Shinzo's right, he and I both want the peace treaty concluded. And that's the idea that came to me. Let's conclude a peace agreement by the end of this year without any preconditions."
But Abe, did not give his response. It comes as both Moscow and Tokyo claim sovereignty over the islands, known in Russia as the Kurile islands and in Japan as the Northern Territories. The Japanese leader says a deal will unlock trade and investment from Japanese companies for Russia. But for Putin, giving up the islands would risk a political backlash at home. He's concerned with a move to establish a U.S. missile defense system there.
Negotiations over the islands have been on the table for 70 years and the Japanese Prime Minister isn't about to sign a treaty before they've worked out the disputed issues.
Meanwhile, Putin says the two Russian men suspected of the poisoning of a former Russian spy in the UK says the men are not criminals but civilians.
Vladimir Putin says, "We have looked at who these people are, we know who they are now, we found them. I hope they will show up in public and speak for themselves, that would be better for everyone. There is nothing special or criminal there, I assure you, but in time we will see."
These pictures were released by the Metropolitan Police. Detectives say the suspects were operating under aliases when they visited Salisbury in March. They've been charged with poisoning Mr Skripal, and his daughter Yulia. The UK government believe the assassination attempt came from "a senior level of the Russian state" but Moscow vehemently denies this.