What's lined-up for Kuwait's Smart City transformation?
Comments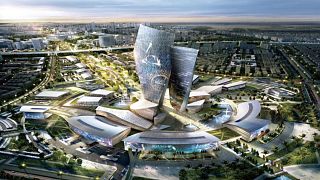 South Saad Al Abdullah city in Kuwait is billed as the Middle East's first development to be both green and 'smart'.
Construction work on the site, which will cover 64 square-kilometres and cost an estimated US$4 billion, is expected to start late next year.
The smart city is part of the country's 30-year vision to transform itself into a hub for trade, finance and tourism - cutting its dependency on oil revenues.
The project is being developed in partnership with South Korea - a leader in the 'smart' field - and once finished, it will home around 400,000 people.
South Saad Al Abdullah city, the Middle East's first development to be both green and 'smart'
"We're thinking about using a lot of ideas like smart mobility, in which we'll use the latest technologies to control the traffic management and monitor the infrastructure," reveals Naser Adel Khraibut, Deputy Director General of Kuwait's Public Authority for Housing Welfare.
Whilst South Saad Al Abdullah is still a few years off, smart technologies are already being built into other new housing developments like South Al-Mutlaa, close to the capital.
The foundations are just being laid for what is Kuwait's largest housing project so far - with more than 28,000 homes being created.
South Al-Mutlaa, Kuwait's largest housing project yet
For architecture companies in Kuwait, the ever-changing needs of the population are disrupting traditional design thinking.
"We've been doing business in Kuwait for over 50 years now and the way that we design and the way that our projects are configured is totally different," says Ian Purser, PACE's Head of Architecture.
"That's important for Kuwait and it's important for the future - because of the population growth, because of the demands on the economy, for the demands of the environment," he adds.
Kuwait's oldest souk is also being earmarked for the 'smart' treatment. University researcher Ali Al Enezi has come up with a hi-tech vision to take it into the future.
'Smart' technology might soon be integrated in Kuwait's oldest souk
"There's huge potential here," he says, "Starting from parking, where we will have sensors. Plus, we could have technology to manage the souk, starting from cleaning, water management and supervisors."
Kuwait is one of many countries in the Middle East with ambitious plans to develop connected, competitive and convenient cities - contributing to the global smart cities market which it's estimated will be worth $2.6 trillion by 2025.