Man in Idlib fearing chemical attack makes gas mask from party cups
Comments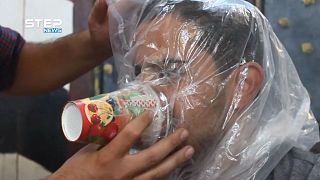 A man in Syria's embattled city of Idlib has created a makeshift gas mask from party cups, cotton and charcoal, among other easy-to-find items.
The improvised protection was put together using a paper cup filled with charcoal and cotton wool.
A plastic covering is then taped to the side of the cup.
Residents were said to be preparing themselves ahead of expected offensives on Syria's last rebel stronghold.
Airstrikes pounded southern Idlib and northern Hama over the weekend.
Some civilians even erected makeshift shelters and dug underground bunkers.
The intensive strikes resumed on Sunday, according to residents and rescuers, as Damascus stepped up its assault on the area after a Russian-Iranian-Turkish summit failed to agree on a ceasefire.
The offensive came just hours after more than 60 air raids killed at least four civilians in southern Idlib on Saturday.
Witnesses said hundreds of families had begun fleeing from villages and towns in southern Idlib that have been the target of heavy strikes closer to camps near the Turkish border.
There is "lots of evidence" that chemical weapons are being prepared by Syrian government forces in Idlib in northwest Syria, said Jim Jeffrey the new US adviser for Syria on Thursday.
Russia and Syria's president, Bashar al-Assad, denied previous accusations from the West of using chemical weapons in the country, with Russia saying it had "irrefutable" evidence that a deadly chemical weapons attack in Douma was fabricated.
Idlib is the insurgents' only remaining major stronghold and a government offensive could be the last decisive battle in a war that has killed more than half a million people and forced 11 million to flee their homes.