Air strikes continue in last Syrian rebel stronghold of Idlib
Comments
By Reuters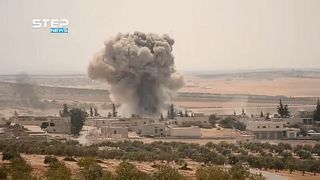 Russian and Syrian warplanes have kept up their assault on Idlib province, the last major stronghold of active opposition to the rule of Syria's President Bashar al-Assad.
Witnesses and rescuers said at least a dozen air strikes hit villages and towns in the south of the province.
They said Syrian helicopters dropped barrel bombs on civilian homes.
The town of Latamneh in northern Hama also came under bombardment.
It came a day after a summit of the presidents of Turkey, Iran and Russia failed to agree on a ceasefire aimed at preventing a looming military operation.
There are fears a full-scale offensive could cause a humanitarian catastrophe involving tens of thousands of civilians.
Turkish President Recep Tayyip Erdogan pushed for a ceasefire during the summit but Russian President Vladimir Putin said a truce would be pointless because it would not involve Islamist militant groups Assad and his allies deem as terrorists.