Europe briefing: Five stories to know about today
Comments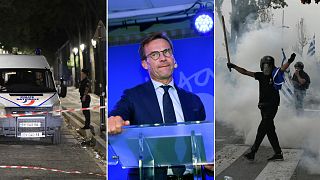 Man with iron bar and blade wounds seven in Paris
Seven people have been wounded, four seriously, after a man armed with an iron bar and knife went on a violent rampage in Paris on Sunday.
The incident unfolded in the northeastern district of Quai de la Loire at just after 11pm.
French police detained the man, a judicial source confirmed early on Monday, adding that there was no initial indication the attack was linked to terrorism
It is believed the attacker is an Afghan national.
All victims have been taken to hospital for treatment.
German police arrest Afghans in connection to man's murder
Two Afghans have been arrested in connection with the murder of a German man in Koethen on Sunday, the police and the public prosecutor's office have confirmed. Their detention threatens to stoke anti-migrant tensions in the country.
The 22-year-old's death prompted partisan protesters to gather at dusk in the eastern town.
It follows that of Daniel H, another German man who was stabbed to death on August 26 in the city of Chemnitz. His murder has sparked multiple violent far-right protests in the city.
Two asylum seekers – a Syrian and an Iraqi – were arrested in connection to the killing.
Sweden is headed for a hung parliament.
Sweden is headed for a hung parliament.
A coalition looks almost certain as the ruling alliance - the Social Democrats and Green Party - lies marginally ahead of its centre-right rivals - the Moderates, Liberals, Centre and Christian Democrats - with around 40% each.
Almost all the ballots from Sunday's election have been counted after voting booths closed in the evening.
The nationalist Sweden Democrats (SD) have won about 18% of the vote, yet far from being kingmaker, both of the main blocs have refused to govern with the far-right, anti-immigration party, but talks could still follow.
Bungling Boris divides his party with 'suicide vest' jibe
A string of Tory MP's, including a politician who previously served as Boris' deputy, have savaged Boris Johnson after he claimed in a newspaper article Sunday that Theresa may was "wrapping a suicide vest around the British constitution" with her Chequers plan.
Foreign minister Alan Duncan, who worked under Johnson for two years, wrote on Twitter: "For Boris to say the PM's view is like that of a suicide bomber is too much. This marks one of the most disgusting moments in modern British politics.
"I'm sorry, but this is the political end of Boris Johnson. If it isn't now, I will make sure it is later."
Tory MP and former army officer Tom Tugendhat added to the chorus of condemnation, telling Mr Johnson to "grow up".Johnson has not yet commented on the controversy.
Roadblock by Kosovo war veterans hinders Serbian presidential visit
About 200 Kosovo war veterans blocked the road leading to the Serb-populated village of Banje on Sunday, during Serbian President Aleksandar Vucic's second and final day in the country. Roads leading to the region were blocked by wooden logs, trucks and heavy machinery.
Vucic and his entourage were later stopped by Kosovo police on the road to the Drenica region and were told they couldn't continue for security reasons.
The Serbian leader said at a rally later in the day that he remains committed to reaching a compromise with Kosovo which could, in turn, open the way for both countries to move towards membership with the European Union.
As it happened on Monday, September 10
This is how we covered key developments this morning: