An Egyptian court sentences 75 people to death and jails hundreds of others
Comments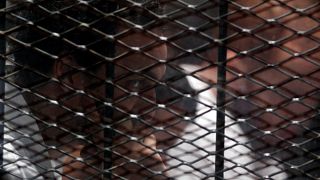 An Egyptian court has sentenced 75 people to death and jailed more than 600 others over a 2013 protest that ended in bloodshed.
Those sentenced include prominent Islamist leaders and journalists.
The mass trial relates to a Muslim Brotherhood protest in Cairo's Rabaa Square that was broken up by the security forces.
Human rights groups say more than 800 protesters died in the single most deadly incident in the violence after Egypt's 2011 popular uprising.
Rights groups have criticised the trial for including many peaceful protesters and journalists.
The government says many protesters were armed and that eight members of the security forces were killed.
Amnesty International called the trial "disgraceful".