The salty sculptures of the Dead Sea
Comments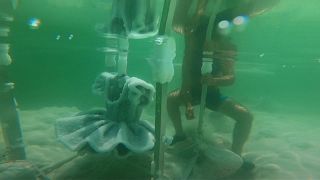 For 15 years, Israeli artist Sigalit Landau, 49, has been making the most of the high salinity in the Dead Sea to create sculptures.
The objects, held in place with with metal frames, include a ballet dancer's costume and shoes as well as musical instruments.
Landau is publishing a book and preparing an exhibition next year in the Museum Der Moderne in Rupertinum, Austria.