Fast news: The week in a minute
Comments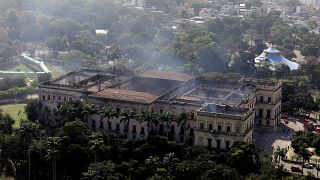 We take a 60-second look at the biggest stories hitting headlines around the world this week.
Firefighters battle massive blaze at 200-year-old Rio museum
A huge fire engulfed Brazil's 200-year-old National Museum in Rio de Janeiro, lighting up the night sky with towering flames as firefighters and museum workers raced to save historical relics from the blaze.
The esteemed museum, which housed artefacts from Egypt, Greco-Roman art and some of the first fossils found in Brazil, was closed to the public at the time of the fire on Sunday evening.
Clashes erupt at demonstrations against Nicaragua's government
Violent clashes erupted in Nicaragua's capital on Sunday as protesters took to the streets to demonstrate against the government of Nicaraguan President Daniel Ortega.
In Managua, a group of protesters were seen throwing rocks at a police vehicle, which was later set on fire.
Reuters journalists arrive at court for verdict announcement
Two detained Reuters journalists accused of obtaining state secrets arrived in a Yangon court on Monday expecting to face their verdict.
Wa Lone, 32, and Kyaw Soe Oo, 28, have been charged under the colonial-era Official Secrets Act. The verdict was postponed last Monday (August 27) because the judge overseeing the case was in poor health, a court official said.
The pair were detained last December. Their prosecution has come to be seen as a test of progress towards democracy in the Southeast Asian country.
Heavy rains, thunder and flooding bring Barcelona traffic to a standstill
Heavy flooding brought traffic to a standstill in a Barcelona neighbourhood early on Thursday morning after a thunderstorm struck the city, video posted on social media shows.
Rubbish bins were overturned and parked vehicles submerged in floodwaters on Avinguda del Paral·lel street as cars tried to make their way through floods amid lightening and thunder.
The bad weather also forced many metro stations to close.
LGBT supporters celebrate as India throws out gay sex ban
Supporters of the lesbian, gay, bisexual and transgender (LGBT) community in India celebrated on Thursday by cheering and waving rainbow flags after India's top court scrapped a colonial-era ban on gay sex.
A five-judge bench in the Supreme Court was unanimous in overturning the ban. But the ruling could face a legal challenge from groups that say gay sex erodes traditional values.
It is considered taboo by many in socially conservative India, as well as in neighbouring Bangladesh, Sri Lanka and Pakistan. It was reinstated as a criminal offence in India in 2013 and punishable up to 10 years in prison.
Dashcam video shows man shooting police in Pennsylvania
Dash camera video shows a harrowing shootout between a man pulled over for speeding and two Pennsylvania state police troopers. The roadside battle in November left an officer badly hurt, with wounds to his neck, shoulder and thigh.
Northampton County prosecutors used the dashcam video in their case against Daniel Clary, a 22-year-old from Effort, Pennsylvania.
Clary was shot multiple times and drove himself to a hospital. He was sentenced on Friday for up to 110 years in prison.
Palestinian protesters reach Israeli checkpoint at Erez Crossing
Israeli soldiers fired tear gas at Palestinian protesters in the Gaza Strip on Monday as they approached the Israeli checkpoint at the Erez crossing.
There was no information available on injuries, but ambulances were seen leaving the area with sirens blaring.
Iraqi protesters torch government building in Basra
Protesters set fire to the main government building in the southern Iraqi city of Basra on Wednesday, security sources said, amid growing unrest over poor basic services.
Demonstrators also blocked the road from the oil hub of Basra to Baghdad to express anger over electricity outages, unemployment and entrenched corruption in the long-neglected south - Iraq's Shi'ite heartland.
Earlier on Wednesday, security forces sprayed tear gas and fired into the air to try to disperse demonstrators.
The deaths of five protesters in clashes with security forces on Tuesday added to the fury.
Russian carries out airstrikes in Syria's northern Idlib province
Russia says it has launched airstrikes targeting militant infrastructure in Syria's northern Idlib province where the government is expected to launch a major offensive against the rebels' last major stronghold.
The Russian Defense Ministry said Wednesday four jets struck targets linked to a group with ties to al-Qaida, including a weapons depot and a launch pad for drones that Russia says have targeted its military bases in Syria.
Novichok attack 'almost certainly approved at senior level of Russian state', May says
British officials announced Wednesday that they have charged two alleged Russian military intelligence agents with the nerve agent poisoning of ex-spy Sergei Skripal and his daughter Yulia in the English city of Salisbury - though they held out little hope of being able to bring them to justice.
The Crown Prosecution Service said the men, who entered the UK under the names Alexander Petrov and Ruslan Boshirov, are being charged in absentia with conspiracy to murder, attempted murder and use of the nerve agent Novichok.
Under the sea: antiquities make way for Israel's Leviathan pipeline
Underwater archaeologists have been scouring the seabed, where a gas pipeline is being built off Israel's coast, in a bid to preserve relics near a 5,000-year-old port which once was a key trade hub for the Mediterranean's ancient civilisations.
The pipeline from the deep-sea Leviathan gas field that is due to begin production late next year comes ashore near Dor Beach in northern Israel, a popular spot for sunbathers.
It is also the site of the ancient port of Dor, where hidden in the seabed lie the vestiges of marine traders throughout the ages - from the Phoenicians to the Romans.
Click your heels, FBI recovers ruby slippers
A pair of ruby slippers worn by Judy Garland in "The Wizard of Oz" and later stolen from a Minnesota museum were recovered in a sting operation after a man approached the shoes' insurer and said he could help retrieve them, the FBI said Tuesday.
The slippers were on loan to the Judy Garland Museum in the actress' hometown of Grand Rapids when they were taken in 2005. Someone had climbed through a window and broken into a small case where they were on display. The shoes were insured for $1 million.
Burt Reynolds remembered on Hollywood Boulevard after death at 82
Movie star Burt Reynolds was remembered at his Hollywood Walk of Fame star on Thursday after his death at 82.
Reynolds' good looks and charm made him one of Hollywood's most popular actors, having starred in films such as "Deliverance," "The Longest Yard" and "Smokey and the Bandit" in the 1970s and '80s.
Reynolds died on Thursday morning at the Jupiter Medical Center in Florida, his manager, Erik Kritzer, said in an email.
About 100 cars at auction site catch fire amid Japan typhoon
About 100 cars at a used car auction site caught fire in typhoon-ravaged western Japan on Tuesday.
Japanese broadcaster TBS showed footage of fire and smoke coming from the parked cars at the auction site, facing the coastline in Nishinomiya.
The cause of the fire hasn't yet been confirmed, but investigators are connecting it to the typhoon.