Footage shows devastation from Japan's worst storm in a generation
Comments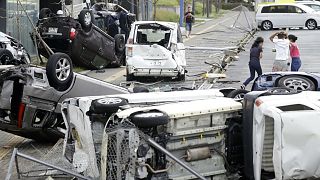 Pictures have emerged showing the devastation caused by the most powerful storm to hit Japan in a quarter of a century.
The powerful typhoon killed 10 people in the west of the country, required 3,000 stranded passengers to be evacuated from a flooded airport and left more than a million homes without power, the government said.
One video shows a lorry being thrown onto its side near Osaka, while another showed a building's roof being ripped off.
The storm also put an Osaka ferris wheel in a spin.
Other images reveal the damage to a bridge after a tanker collided with it in the storm.
Meanwhile floods at Kansai Airport stranded thousands of passengers. They were eventually transferred out using boats and buses.
The storm, briefly a super typhoon, follows heavy rains, landslides, floods and record-breaking heat that killed hundreds of people this summer.
The US Joint Typhoon Warning Center defines a super typhoon as one with winds of at least 241 k/ph.