Fire ravages Brazil's National Museum
Comments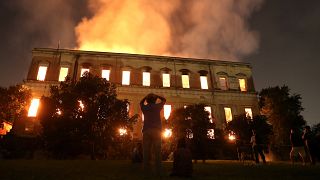 A massive fire has broken out at the 200-year-old National Museum of Brazil in Rio de Janeiro.
The fire, which quickly spread throughout the building, is believed to have started after the facility had closed for the day.
No casualties were immediately reported.
The museum is thought to contain more than 20 million items in its collection including important dinosaur bones and a 12,000-year-old human skeleton of a woman - the oldest ever found in the Americas.
Brazil's President Michel Temer said in a tweet that it was a "sad day for all Brazilians".
Here are some of the priceless and irreplaceable pieces that may have been lost:
Maxakalisaurus topai:
One of the most treasured dinosaur items was the Maxakalisaurus Topai, which was one of the museum's main attractions with its own, decicated exhibition room.
Found in the Minas Gerais region in 1998, it was the country's biggest skeleton of a dinosaur of this size.
The herbivore, which lived some 80 million years ago, weighed 9 tonnes and was 13-metre long.
America's oldest woman, Luzia
The museum also housed the continent's oldest human fossil.
Luzia was discovered in 1974 and was estimated to have roamed Brazil some 11,000 years ago.
She was believed to have been between 20 and 25 years of age when she died and belonged to one of the country's first peoples.
Rio's biggest scientific library
The site also contained a major scientific library, associated to Rio's Federal University (UFRJ).
Established in 1863, it held some 500,000 items, including 2,400 rare works.
Classical archeology
The museum owns a collection of 750 Greek, Etruscan and Roman items. It was considered to be the largest classical archeology collection in Latin America.
Ethnic artefacts from the Amazon
The museum also held an important collect of ethnic art from the Amazon region and central Brazil.
It included this mask which young indigenous from the Ticuna people wore to be initiated.